Evaan Resorts Oakwood Hamlet
Eco Luxury Resort
Oakwood Hamlet caters to the needs of diverse travelers. Situated at an altitude of 5900 ft, Oakwood Hamlet is never in dearth of occupants because of the fact that it is well-connected to Shimla. It is set on a friendly highland village that's near to an oak forest one of the most significant and magnificent trees in the whole world. Its jungle retreat offers a mixture of wilderness, serenity and comfort and appreciated by travelers across the world. Oakwood Hamlet is situated on the outskirts of Shoghi which lies 14 Km before Shimla.
Amenities
Television (TV)
Restaurant
Power Charging
Laundary
Coffee Maker
Call facility
Air Conditioned
Free Parking
Free Wi Fi
Category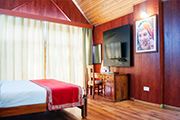 Get yourself and your family equipped with all the necessities in our Royal family villa with ease of accommodation and modern-day amenities to make your stay comfortable.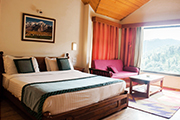 Spacious and uniquely designed, the Royal Duplex will charm you with attentive details that cater to all your needs which are equipped with modern amenities.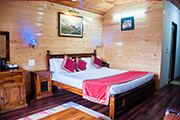 The executive rooms include all of the amenities of a superior hotel plus additional living space for our guests' convenience covering all needs of the customer.